Solutions
Focus on the client needs:
safety, agility and productivity.
•  TECHNOLOGY AND INNOVATION – Solutions for several markets  •
High-quality or multispectral imaging, software processing, early pest detection, crop counting, agro-measurement, and more.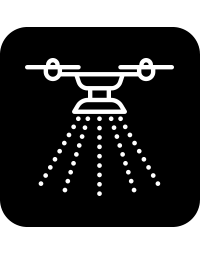 Application of pesticides, larvicides and other chemicals in GPS planting areas, providing more safety and efficiency, generating savings of up to 60% for the producer.
Life saving, avoiding unnecessary risks and allowing data collection in hard to reach areas and specific spots, in an easy way that does not interrupt your production.
Calculation of land volume and other purposes, without interfering in the production and with total safety and agility.
SkyDrones works from 3 basic elements:
LEADING THE WAY
SkyDrones is a leading company in developing, manufacturing and operating imaging and inspection RPAs, as well as spraying drones.
CONFIRA OS ÚLTIMOS POSTS DO NOSSO BLOG:
SkyDrones will be presenting for investors his Ag Big Data spin-off company SkyAgri at the APEX-Brasil event that will take place this week in [...]
Of course, you have the right to be suspicious of us when we say that our drones are wonderful and as efficient [...]
On Oct. 29th we helped a power company to cross a cable over a busy avenue in a major city in [...]